Top Story
Yesterday Gwyneth Paltrow offered tips on the best sex toys for 'solo pleasure and partner play'."
1 thru 10 of 15049 Stories
The American Hotel and Lodging Association announced that 15,000 hotels have signed up for its new initiative "Hospitality for Hope," which identifies hotel properties that have offered to provide temporary housing for emergency and healthcare workers.
Small business owners hoping for quick loans from the government were in a holding pattern Monday — waiting on their bank to either take their application or, if it did, send them the money.
After panic buying left store shelves stripped of staples like pasta, canned goods and toilet paper, many shoppers quickly found online grocery delivery slots almost impossible to come by, too.
Wisconsin is asking hundreds of thousands of voters to ignore a stay-at-home order in the midst of a pandemic to participate in Tuesday's presidential primary election.
Colleges across the nation are scrambling to close deep budget holes and some have been pushed to the brink of collapse.
The Trump administration on Monday designated a Russian white supremacist group a terrorist organization and hit its members with sanctions.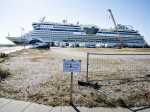 The White House is considering coronavirus "war bonds" to fund the federal response to the pandemic.
The ousted inspector general of the intelligence community says he is "disappointed and saddened" that President Donald Trump fired him, but he also encouraged other inspectors general to continue to speak out.
In a broadside punctuated with profanity, the Navy's top leader accused the fired captain of a coronavirus-stricken aircraft carrier of being "too naive or too stupid" to be in command.
Beginning next week, Hilton and American Express will make rooms available without charge to doctors, nurses, EMTs, paramedics and other frontline medical staff who need a place to sleep, recharge or isolate from their families through the end of May.
1 thru 10 of 15049 Stories