Top Story
In Moira Rose, Catherine O'Hara has created a character that will arguably go down as one of the best in TV history.
1 thru 10 of 14758 Stories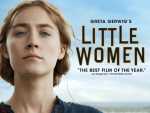 The beloved novel gets an entirely inspired reinvention from writer/director Greta Gerwig and starring Saoirse Ronan "Little Women" available on Blu-ray and DVD is perfectly classic and modern; a story for the ages, for today.
Elegant and moody, Oz Perkins' latest psychological horror hybrid is also somewhat of a bore.
This film is flawed, but it's catnip for dads: A true-life Vietnam war film that offers valor, a band of brothers, some dogged and righteous steadfastness, honor and grace.
It has no business being as entertaining as it is, but the cast will win you over.
Focus Features announces the switch of their currently standing "Focus Fridays" livestreaming program to "Focus Movie Mondays," hoping to bring moviegoers back to the movies from the comfort of their own homes.
With a film that rips off "The Exorcist," "Rosemary's Baby," and "The Omen," one would guess that the final result would be a nonstop scare-fest.
Nick Peet's bouncy, winking comedy "Lazy Susan" never breaks character... and neither does Sean Hayes, who plays the title character.
It sounds like the sequel to the gay coming-of-age story "Call Me By Your Name" is coming together.
What better time than now to revisit the fascinating 2016 documentary "The Lost City of Cecil B. DeMille," which examines a little-known aspect of the great filmmaker's ambitious work?
The Walt Disney Co. on Friday overhauled its release schedule by moving the dates of half a dozen Marvel movies.
1 thru 10 of 14758 Stories