Top Story
A breakdown of some of the best films of 2019 and where to stream them.
1 thru 10 of 14634 Stories
Out actor and writer Lena Waithe is making Disney history: She's lending her voice to the company's first openly gay animated character. But folks on Twitter aren't exactly lauding the Mouse House.
A charmingly told tale, "Onward" is a surprisingly touching movie about brotherly love... and half a dad.
"The Matrix 4" is getting another cast member.
"Sonic: The Hedgehog" zoomed to the top of the box office with a take of $26.3 million in its second weekend while audiences ignored critics and heeded "The Call of the Wild."
"21 Bridges" is a mediocre cop movie driven by gripping action sequences that do nothing special or surprising.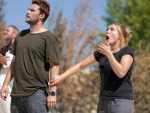 A breakdown of some of the best films of 2019 and where to stream them.
The "First Wives Club" is reuniting: Bette Midler, Goldie Hawn and Diane Keaton are teaming up again for a new film called "Family Jewels."
President Donald Trump is apparently not a fan of "Parasite," his biggest complaint being that the movie was made in South Korea.
The 2018 release of the Netflix teen rom-com "To All the Boys I've Loved Before," changed the lives of its stars, Lana Condor and Noah Centineo, by putting them on Hollywood's radar.
Hiroshi Teshigahara's transfixing visual poem "Antonio Gaudi" is now available on Blu-ray from the Criterion Collection, with a great new high-definition video transfer.
1 thru 10 of 14634 Stories