'Soup to Nuts' with Cabaret Veteran Sharon McNight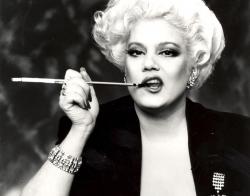 On November 19, 1987, a Thursday night, the San Francisco cabaret entertainer Sharon McNight swept into Boston's Club Café with gale force and became the first performer to open up the brand-new back room Club Cabaret (now known as Moonshine), started by Club Café owners Frank RIbaudo and the late Joseph McAllaster. The Boston Globe described her opening night performance thusly: "The power-packed, platinum-coiffed McNight's vocals and demeanor immediately invited comparison to a classic cast of Broadway and Hollywood characters: imagine, say, the sneering sexuality of Mae West, the vocal bombast of Ethel Merman, the nasal soprano of Bernadette Peters, the trailing vibrato of Bette Midler, combined with the burlesque antics of George M. Cohan and Jimmy Durante."

Already a cabaret staple on the East Coast, performing long runs in Manhattan's various boîtes (such as the old Duplex, Don't Tell Mama's and Eighty Eights), as well as performing entire summers in Provincetown as the headlining entertainer at the original Pilgrim House since 1980, McNight was a smart choice for opening the Club Cabaret, since her fan base was legion, and her reputation for wild, bawdy, and entertaining shows was legion. Almost 32 years to the day, also on a Thursday night, McNight returns to the Club Café's Moonshine Room on November 7, at 7:30pm, to perform "Soup to Nuts."

The Tony-nominated ("Starmites") and MAC, Bistro and Nightlife Award winning McNight began her career in San Francisco, where she also got degrees in Musical Theatre and Directing from San Francisco State. She is as accomplished a teacher as she is a performer, having taught at City College of San Francisco, and was annually invited to be a master teacher at the Eugene O'Neill Center Cabaret Symposium and the Cabaret Conference at Yale University. She will also be bringing her teaching skills to Boston with "A Master Class with Sharon: The Art of Performance," on Saturday, November 9, at 11:30, in association with the Boston Association of Cabaret Artists (BACA).

McNight is probably best known for her one woman show, "The Sophie Tucker Songbook," which she turned into an Off-Broadway show, "Red Hot Mama," where she performs as Sophie Tucker. Another one of her notorious shows is "Songs to Offend Almost Everyone." Then there is her tribute to the female legends of song "Gone but Not Forgotten." Stephen Holden of the New York Times has said, "Ms. McNight has a keen sense of the absurd that coincides with a wicked inner detector for artistic expression." EDGE caught up with McNight just before she was being whisked off to Palm Springs to perform at The Purple Room, then catching the redeye to New York to perform again. This busy lady with a heart of gold and the mouth of a sailor is not afraid to tell you what she really thinks, which means expect the unexpected.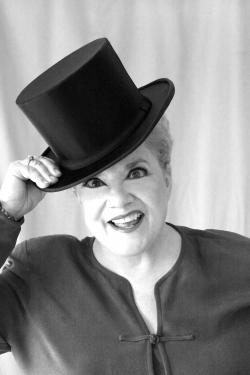 A lot like Sophie Tucker
EDGE: You've been in the cabaret world for four decades or more. What changes have you seen over that time in the audiences, the taste for material, the cabaret culture?

Sharon McNight: I see smaller audiences in theaters because of the Internet. Trying to get people to socialize in public and see live theater when they can stay home and play with their phones is tough. I have seen more of a 'bring your own audience' attitude among club owners who no longer do their own publicity to fill the rooms. Clubs no longer have their own reputation for quality entertainment. Now it's up to the performers to fill the rooms.

Now anyone who can sing a few songs has an act, and these amateurs is what people think what cabaret is, and it's not. But I'm a pro and it's my job is to make you laugh and cry.

I'm a lot like Sophie Tucker. I say what I want. I speak out. Sophie worked in a man's world for 60 years. Like her, I smoked and cussed like a sailor in order to get anywhere. It hasn't always worked. The Rose Auditorium at Lincoln Center has a lot of Broadway stars lined up to perform. But even though I've done this for 42 years now, and it's hard for me to get in there.

EDGE: What was your Provincetown experience at the Pilgrim House like back in the '80s?

Sharon McNight: I began in July 1980. I came from San Francisco. The liberation for gay rights started there. I get maybe a little verklempt when I mention this, but I was just selected to have my name engraved in the Circle of Friends in the [National AIDS] Memorial in Golden Gate Park, and I'm being honored for my support of the gay community. I brought my hippie "don't mess with me" attitude to P-town. Men, mostly men, appreciated me and came to see me in droves. They had money to spend and liked to party. This was before the health crisis. We were celebrating that times were a-changing. As years went by in the '80s many of my friends went by the wayside. If anyone lost weight, they were suspect. The government didn't help us, especially the California governor Ronald Reagan. Randy Shiltz, in his book "And the Band Played On" (I'm mentioned in the book), wrote about that government inaction, which helped things. The women's liberation movement also helped the gay rights movement.

I was singing country music, which was totally unheard of in cabaret. I sang "Stand By Your Man," and "Cowboy Sweetheart." A lighting guy in a NYC cabaret told me "You can't sing country in cabaret." And I said [in country accent] "Son. This is 'Murica and I can sing what I want." I also did the landing scene from "The Wizard of Oz," doing all the characters and all the dialogue and songs. I jumped around a lot in that number and I didn't have to go to the gym for a week. During those days in P-town, I knew Eartha Kitt, who also worked there, and Rose Maddox, a country music singer featured in Ken Burns' special country music series.
Influences?
EDGE: Who were your influences, growing up?

Sharon McNight: That's tough one. Johnny Carson was an inspiration. I was in elementary school, and my parents didn't know that I got up late at night and watched the Tonight Show. Martha Raye, Danny Kaye — this sounds like a rap song. I used to watch Jack Parr a lot. Witty and intelligent. Hermione Gingold. There weren't many women stand-up comedians in the olden days. I loved physical comedy. I loved the Mamas and the Papas. I do a show called "Gone but Not Forgotten" covering legendary singers: Patsy Cline, Sophie Tucker, Madeleine Kahn, Cass Elliot, and I sing the songs they made famous.

EDGE: How did your Hirschfeld drawing come about?

Sharon McNight: We knew [Hirschfeld] was in the opening night audience [of "Starmites"] because we could see his white beard reflecting the lights off the stage, but we didn't know who he would illustrate. We were in a 500-seat theater that used to be the Bond's Clothing Store. This was a small theater with a bunch of rag tag people doing this rock and roll musical and we were so honored he was there. We could use all the publicity we could get. And I got a call a few days later to tell me that he was doing me! I actually paid him for it. I have it in my house. He drew Sophie Tucker when she was in "Leave It To Me," and I have a copy of that. I got to meet him, too and his first wife.
A little comedy...
EDGE: You were nominated for a Tony Award for "Starmites" in 1989. What was that like?

Sharon McNight: It was a great honor. We were an independent production. They eliminated the book and lyrics categories that year, because "Jerome Robbins' Broadway" and "Black and Blue" had no book. They didn't know if they were going to nominate us at all, but we were nominated for several things. All the Tony nominees got to do these events before the Tony's and there was an event at Gracie Mansion when Mayor Koch was mayor. He was there. He was still driving a car at the age of 93 in NYC; I wouldn't drive in NYC at 25 let alone 93. I got to meet Arlene Francis, and I used to watch her every week on "What's My Line" growing up in Modesto, and she was in a party dress, and I thought everyone in New York wore a party dress.

EDGE: Do you ever sing your "Starmites" star turn "Hard to Be Diva" in your cabaret shows?

Sharon McNight: I don't do it in my cabaret shows. But in AIDS benefits or Actors' Fund Benefits. For those, we are always asked to do a song from one of our shows. Unfortunately, my song isn't "The Shadow of Your Smile," something slow. No mine has to be a Tina Turner-like song. Exhausting.

EDGE: What will some of the songs be in your Boston show?

Sharon McNight: It will be "Soup to Nuts," a little comedy, some poignant songs. Some impressions. If I'm struck, Bette Davis may come out, she has to get her nose in the business, because that's just the way she is. It's not often you see a woman do Bette Davis. The Sophie Show has a script for Bette Davis, but in this show, I could go off track, so God help you. We'll see.

I have two Michael Greer songs, that I wrote with him. He was in "Fortune in Men's Eyes" and "The Rose" with Bette Midler. He's hilarious. I might do those as encores.

I like to call my act "Soup to Nuts," because I sing what I like, all kinds of songs. I would sing "Masochism Tango" and my mother would come, and she'd say, "Why don't you sing something I know?" So, I used to take request from my mom, but I would make up words to the song, like "Hello Dolly." Once she stumped me with "Glowworm," and everybody leaned in to hear what I would do with it, and it threw me. Everybody laughed. I haven't thought of that in years.

EDGE: What are you liking about coming to Boston for this show?

Sharon McNight: I'm happy to see that Club Café is still going. That's exciting, because not many clubs have lasted that long.

Sharon McNight will perform "Soup to Nuts" on Thursday, November 7, 2019, 7:30 pm at the Moonshine Room, Club Café, 209 Columbus Avenue, Boston, MA. Tickets: $25. For reservations call 617.536.0966 or visit https://www.clubcafe.com/event/sharon-mcnight/

For more on Sharon McNight, visit her website
Watch this clip of Sharon McNight in performance:



John Amodeo is a free lance writer living in the Boston streetcar suburb of Dorchester with his husband of 23 years. He has covered cabaret for Bay Windows and Theatermania.com, and is the Boston correspondent for Cabaret Scenes Magazine.
Comments on Facebook