Jazz Great Dianne Reeves Talks (and Sings) Straight from the Heart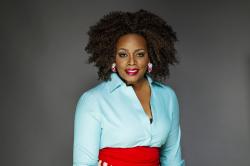 For being a 5-time Grammy Award winner, Dianne Reeves is easy-going, relaxed, and completely without pretense in an interview. You never get the sense that she is giving you a rehearsed declaration, but instead, she is giving you her authentic self. In fact, that is what most music journalists will say about her singing. This may be why Reeves gets uncomfortable, detectable even over the phone when one asks her about her musical influences. Her response to this question usually is: "I don't have one." She equates being influenced by another artist with sounding like them, thus giving up one's own identity and authenticity to the other artist.

This may have been a lesson she learned very early on, as a young high school teen just entering the music scene. Her uncle, the great jazz and classical bassist Charles Burrell saw that her rendition of "What Are You Doing the Rest of Your Life" was modeled note for note on Sarah Vaughn's arrangement from an album "Sarah Vaughn With Michel Legrand," a recording the young Reeves had practically worn thin. He pointed out to Reeves that if Vaughn were to sing that song three times, she would sing it three different ways, and that the recording only caught one of them. He encouraged her to lay her own version onto the chords. From that moment Reeves never stepped into another musician's shoes, only her own.

That's not to say that she hasn't learned from other singers and instrumentalists. She credits Vaughn for teaching her how to use her wide vocal range, something she and Vaughn have in common. She freely admits that she listened extensively to Vaughn, Ella Fitzgerald and Billie Holiday growing up. But she also notes that she listened to many of the Motown artists, like Marvin Gaye, Aretha Franklin, and Tammi Terrell. There was also Earth, Wind, and Fire. But her most valuable epiphany came from listening to and watching Betty Carter perform. She saw that Carter didn't front her instrumental band, she was one of them, another instrument, fully integrated, as a co-creator. She told Sound Exchange in a 2017 interview, "At that point I realized I would never have a backup band. It would be an ensemble that we create together."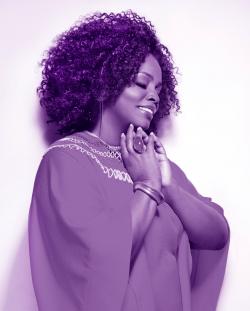 It is that integrity that has underscored her entire 4-decade career, using her unique vocal talents and storytelling skills to convey a message of hope and joy to her audiences. Jazz Times journalist Gigi Brooks gushed, "Dianne Reeves commands the attention of her audience with her beauty and strength of presence on the stage. She approaches the music with a soulful, deep clarity and an understanding of her gift and what a voice is really meant to do. At times, she was a trumpet and saxophone. Other times she held her voice softly to every note, lightly stroking the listener into a dream-like trance."

Brooks also used such phrases as "humor and wit," "earthy and robust," and "operatic" to describe her performance. Stephen Holden of the New York Times added, "Almost everything she does has the aspect of a semi-improvised tone poem." Global Arts Live will present Reeves in a return Boston appearance at Berklee Performance Center on Saturday, February 8th at 8 pm. (For more information, visit the Global Arts Live website. She will be joined by her longtime instrumental collaborators, pianist Peter Martin, bassist Reginald Veal, drummer and percussionist Terreon Gully, and guitarist Romero Lubambo.

(For other dates on Ms. Reeves' current tour, visit her website.)

What helped Reeves develop as an artist at a very early age was being immersed in a musical family. Though she doesn't recall her father's singing voice, he died when she was 3, there is an undeniable genetic connection to him as a singer. And though her mother played the trumpet only through high school, music still filled Reeves' household growing up. Her grandmother and older sister were dynamic storytellers, another family trait that weaves into Reeves' performances. Then there is her uncle Charles Burrell, as well as her cousin George Duke, jazz singer, songwriter and keyboard artist, both of whom were mentors to the emerging Reeves. Duke worked with jazz saxophonist Cannonball Adderley, whose animated performance style and easygoing banter with the audience between songs caught Reeves' attention.

When Reeves won the National Endowment for the Arts Jazz Master Award in 2018, that was an honor that put her in the company of such renowned past winners as Roy Eldridge, Dizzy Gillespie, Miles Davis, Ella Fitzgerald, Lionel Hampton, Anita O'Day, Carmen McRae, and the entire Marsalis Family. That same year, she received the Monterey Jazz Festival's Jazz Legends Award, the first woman to do so, joining the ranks of Dave Brubeck, Wayne Shorter, Chick Corea, and Herbie Hancock. Since 1982, she has made 22 recordings, including the soundtrack for the George Clooney film, "Good Night and Good Luck," for which she sang every cut, earning the recording a Grammy Award, one of her five. EDGE spoke with Reeves about her awards, her upcoming Boston performance, her authentic voice, and why performing live is so rewarding for her.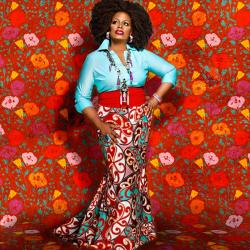 Her influences?
EDGE: Your latest recording, "Beautiful Life," has won a Grammy Award, (her 5th). Will you be featuring songs from this recording and past recordings in your Boston concert? Or will your setlist cover a broader repertoire?

Dianne Reeves: Some selections from that record, but also new music will also be a part of the show as well.

EDGE: Within your discography, you have done only one tribute to a singer, and that was Sarah Vaughn. Was she a major influence on you? Who were some other influences?

Dianne Reeves: Yes, and she was also the one who opened my eyes that the voice is truly an instrument. She used her voice in so many different ways. But the biggest inspiration for me was the times that I grew up in. The music was open and free, and people were defining who they were, and they just sang the music they loved, and the genres that defined them came later. That was really important to me.

EDGE: You grew up in a musical family. Which of them most nurtured your own interest in music as you were growing up?

Dianne Reeves: It actually kind of morphed into something different. There were a lot of beautiful musicians in my family. But what I most loved, is that I had a multigenerational experience with my great uncles and aunts and playing and listening to the music they loved. There was my grandmother, but I also have a sister who is 10 years older; I listened to their music too. But working with cousin George Duke on my first Blue Note album, he told me to really trust my own voice.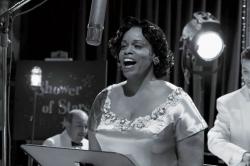 Playing a jazz singer?
EDGE: Your uncle, Charles Burrell is 97 now! Does he still play? Do you ever work with him?

Dianne Reeves: He's still alert and picks up his bass from time to time which he still has with him. I worked with him early on in jazz gigs around town and that's how I cut my teeth in this genre.

EDGE: In the film "Good Night, and Good Luck," how different was it for you to play a jazz singer on screen vs. your actual career as a jazz singer?

Dianne Reeves: The thing that I loved about it, was that it took place in the '40s and '50s, and those were the jazz singers who were available to me as I grew up, so I could embody all of those singers I always listened to and that was really fun, with respect to the times.

EDGE: Aside from jazz standards like "How High the Moon" and "When I Fall in Love," which you sang in "Good Night and Good Luck," music has the power to unify, liberate, educate. Your song "Freedom Dance" has elements of that. Do you choose material with a message?

Dianne Reeves: That one I wrote. And given the times that I grew up in the late '60s and '70s, when we were dealing with the Vietnam War, all music had a message. And there are so many ways to love: you can love the world, love what you do, you can love yourself. Even in some of the standards, you can interpret them in a certain way, it can mean something else. So, I've always picked music or wrote music with a message that I wanted to say something about.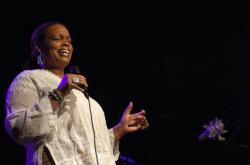 Words or music?
EDGE: As jazz vocalists go, you are one that seems to give as much attention to the lyrics as you do the music. How did you make that choice?

Dianne Reeves: I think words are power. When I say voice, I'm not talking about my instrument, I'm talking about my heart, so when I sing with my voice, it is also coming from the heart.

EDGE: You've made many recordings during your career, and you also perform live year-round. How do you compare the experience of performing in a recording studio vs performing live?

Dianne Reeves: Live performing is important to me, because the music is alive. Even though we are doing the same songs that we've recorded, they are different live, because when it's live, it's a conversation, and the conversation is different from night to night. There's also a lot of experimentation and being intuitive about trying things that happened the first night a little differently the next night. We do that for recordings, too, with retakes, but live you have the magic of the audience and their response and they inspire things as well.


EDGE: You have been given Honorary degrees from Berklee College of Music and The Julliard School. Do you teach at all or give master classes?

Dianne Reeves: I do master classes when I tour, along with the concerts. I would love to come to Berklee and do a master class there.

EDGE: What would be the most important piece of advice be that you would give to a young singer just starting out?

Dianne Reeves: All the students are all unique. And it is that uniqueness they need to refine and define. They need to trust their instincts. That's the biggest thing and move on from there.

EDGE: Congratulations on winning the Jazz Legends Award, and most notably, being the first woman to be given the award. Do you think having done so has broken a glass ceiling for women in jazz?

Dianne Reeves: I think that women are breaking glass ceilings all over the place, and all the cracks are showing up now. Every day something cracks and breaks, and women come through so that's wonderful.

Global Arts Live presents Dianne Reeves on Saturday, February 8, 2020, 8 PM, at Berklee Performance Center, 136 Massachusetts Avenue, Boston, MA 02115. Tickets are $30, $40, $50, and $60. For more information,visit the Global Arts Live website.

(For other dates on Ms. Reeves' current tour, visit her website.)
Watch Dianne Reeves sing "Skylark':





Watch Dianne Reeves sing "You've Got a Friend":



John Amodeo is a free lance writer living in the Boston streetcar suburb of Dorchester with his husband of 23 years. He has covered cabaret for Bay Windows and Theatermania.com, and is the Boston correspondent for Cabaret Scenes Magazine.
Comments on Facebook