Gay News: The Latest
Bill O'Reilly may be forgotten, but he's not yet gone and provided a taste this week of why he is so memorably obnoxious.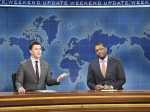 "Saturday Night Live" will be back on the air this weekend with a show that abides by social distancing rules.
The virus outbreak has put much of American life on hold, but the nation's culture wars seem immune from the pandemic.
Sean Hayes' character in the new streaming comedy "Lazy Susan" lives up to her name. EDGE spoke to the actor about playing a cisgender woman in his latest role.
Is there a "butthole" cut of "Cats?" The plot thickens.
Sharon Kleinbaum was installed in 1992 as rabbi of Congregation Beit Simchat Torah in Manhattan, considered the largest LGBT synagogue in the nation. At the time, AIDS was killing thousands of gay New Yorkers each year.
The popular e-mountain bike brand arrives in the U.S. and is ready to ride into the sunset.
Out comedian Rosie O'Donnell told talk radio host Howard Stern that despite her long feud with Donald Trump, she and former Trump lawyer Michael Cohen have struck up a correspondence and are now "pen pals."
The coronavirus silenced Broadway. It could not silence two of its rising stars.
The new coronavirus's ability to wreak havoc in the lungs is raising a lot of concerns and questions from asthma patients. They already know how it feels to have trouble breathing. Now, they are wondering what risks they face amid this new pandemic.
Moving from the track to the living room, many athletes around the world are doing their bit to boost public health during the coronavirus pandemic.
The beloved ABC dramedy "Doogie Howser," about a young doctor and starred Neil Patrick Harris in the 80s/90s, is getting rebooted at Disney+ but this time, the show will center on a teen girl.
The number of Americans getting on airplanes has sunk to a level not seen in more than 60 years as people shelter in their homes to avoid catching or spreading the new coronavirus.
The governor said he's relied heavily on his medical training and a fact-based approach in making those decisions, and he criticized the Trump administration's messaging as too often "aspirational."
Travel to Provincetown during the COVID-19 crisis became an issue this past week when Select Board member Lise King "posted a Facebook message on Thursday that she found painful to write.
Fiat Chrysler is recalling more than 365,000 vehicles mainly in North America because the rear view camera image can stay illuminated longer than allowed.

Ina Garten's crispy chicken thighs with creamy mustard sauce is an easy way to elevate your mid-week dining.
Virginia Gov. Ralph Northam and his top aides were having a meeting about the coronavirus when the discussion turned to neckties.
Puerto Rico's governor is asking federal officials to ban all flights from U.S. cities with a high number of coronavirus cases to help prevent the spread in the U.S. territory.
The annual "One Magical Weekend" event that brings LGTBQ revelers to Orlando from around the world has been canceled for 2020, organizers of the event said in a release.