FIVE DANCES on DVD from Wolfe Video!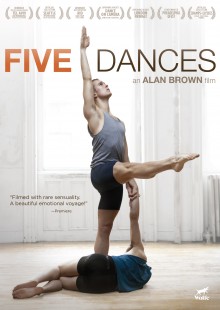 FIVE DANCES

On DVD July 29, 2014!

The classic tale of finding success and romance in the big city is given a contemporary, and unconventional, spin in Alan Brown's new film, Five Dances. Collaborating with internationally renowned choreographer Jonah Bokaer, writer-director Brown has taken five gifted New York dancers, and fashioned a story about Chip (Ryan Steele in his first film role), an extraordinarily talented 18 year-old recently arrived from Kansas who joins a small downtown modern dance company.

In his first weeks of rehearsal, Chip is initiated into the rites of passage of a New York dancer's life, where discipline and endless hard work, camaraderie and competitiveness, the fear of not being good enough, and the joy of getting it just right, inform every minute of every day. Shooting in and around a Soho dance studio, Brown and his longtime cinematographer Derek McKane capture the exhilaration and emotional turmoil of a small dance company, and all of Chip's poignant firsts-the forging of friendships, being chosen for the important solo, his first ever love affair-with the intimacy and immediacy of a documentary. The result, Five Dances, is Brown's most dynamic film.

https://www.wolfevideo.com

Enter to win!

Thanks for visiting EDGE!
Click here to learn about the 365 Gifts Promotion »