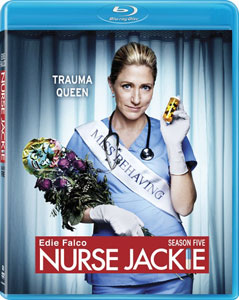 Showtime's award-winning and addictively entertaining series is back and more popular than ever as Nurse Jackie: Season Five arrives on Blu-ray, DVD and Digital HD February 18th from Lionsgate Home Entertainment. Primetime Emmy® Award-winner Edie Falco (Leading Actress in a Comedy Series, 2010) stars as the complex and compelling Nurse Jackie whose life hits a cross-road as she spends the entirety of Season Five in an unfamiliar state...sober. Joined by a phenomenal ensemble cast including Peter Facinelli (The Twilight Saga), Eve Best (The King's Speech), Paul Schulze (Zodiac), Dominic Fumusa (TV's "Law & Order: Special Victims Unit"), Anna Deavere Smith (TV's "The West Wing"), Bobby Cannavale (HBO's "Boardwalk Empire"), Adam Ferrera (TV's "Rescue Me"), Morris Chestnut (Kick-Ass 2) and Merritt Wever (TV's "New Girl"), who won the 2013 Primetime Emmy for Outstanding Supporting Actress in a Comedy Series. Audiences continue to be hooked on Nurse Jackie as Season Five averaged 3.1M viewers per episode, up 10% from Season Four.

After leaving rehab early, Jackie finds sobriety and relative happiness -- but that is the calm before the storm. With her marriage coming to an end, a careless accident sends Jackie (Falco) to her own All Saints Hospital for emergency care. While recovering, she meets NYC policeman Frank Verelli (Ferrera), whose flirtatious advances may lead Jackie into uncharted territory: dating. Stepping out of her usual comfort zone, challenged by new colleagues, Jackie faces her one-year sobriety anniversary.

The Nurse Jackie: Season Five Blu-ray and DVD include all 10 episodes from the season as well as audio commentaries with the cast and crew, two behind-the-scenes featurettes, a gag reel and deleted scenes. The two-disc Blu-ray and three-disc DVD will be available for the suggested retail price of $39.97 and $39.98, respectively.

BLU-RAY & DVD SPECIAL FEATURES

• Audio Commentaries with the Cast and Crew
• "A Sober Jackie" featurette
• "New to the Floor" featurette
• Gag Reel
• Deleted Scenes

Enter to win!

Thanks for visiting EDGE!