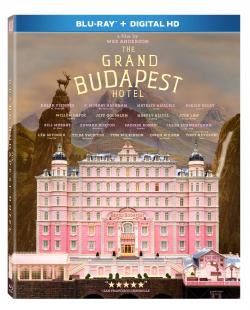 THE GRAND BUDAPEST HOTEL recounts the adventures of legendary concierge Gustave H. and Zero Moustafa, the lobby boy who becomes his most trusted friend. The story involves the theft of a priceless painting; a raging battle for an enormous family fortune; and a desperate chase on motorcycles, trains, sleds, and skis - all against the backdrop of a suddenly and dramatically changing continent.

Special Features

• Bill Murray Tours The Town
• Kunstmuseum Zubrowka Lecture
• The Society of the Crossed Keys
• The Making of the Grand Budapest Hotel
o Part 1 - The Story
o Part 2 - The Society of the Crossed Keys
o Part 3 - Creating The Hotel
o Part 4 - Creating A World
• Mendl's Secret Recipe
• Promotional Featurettes - "Cast" and "Wes Anderson"
• Stills Gallery
• Theatrical Trailer

Enter to win!

Thanks for visiting EDGE!