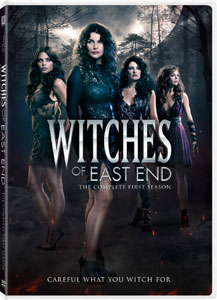 "Witches of East End" stars Emmy award-winning Julia Ormond (Temple Grandin) as Joanna Beauchamp, an ageless mother trying to keep a supernatural secret from her daughters, Freya (Jenna Dewan-Tatum; Step Up) and Ingrid (Rachel Boston; (500) Days of Summer) so they can lead a normal life. But when Joanna's estranged sister (Mdchen Amick; "Twin Peaks") arrives to warn her of an evil entity out to destroy them all, Joanna is forced to reveal the truth about her family's magical legacy. Co-starring Virginia Madsen (Sideways),
Eric Winter ("Days of Our Lives") and Daniel DiTomasso ("Beauty and the Beast"), this powerful and enchanting drama series will cast its spell on you!

DVD Special Features

Falling Under Their Spell
Deleted Scenes
Gag Reel
Cat Blooper Reel

Enter to win!

Thanks for visiting EDGE!