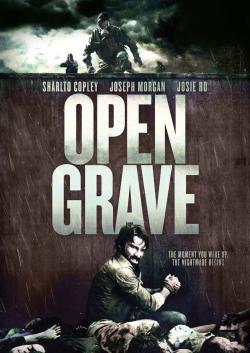 Featuring genre favorites Sharlto Copley (District 9, Elysium) and Joseph Morgan ("The Originals," "The Vampire Diaries"), the zombie apocalypse film that takes psycho thrillers in a new direction, Open Grave, awakens on Blu-ray and DVD July 15 from Cinedigm (NASDAQ: CIDM) and Tribeca Film. Directed by Gonzalo Lpez-Gallego (Apollo 18), the dark and twisted thrill ride also stars Thomas Kretschmann (Wanted, Resident Evil: Apocalypse), Josie Ho (Contagion), Erin Richards (The Quiet Ones) and Max Wrottesley ("24: Live Another Day").

A complicated story that pits characters against each other, Open Grave examines how important memory is to a person's identity by forcing six strangers-stripped of all recollection-to confront their inner demons. While these strangers seek to identify their past, evil demons lurk beneath them, forcing them to fight for survival, even if it means betraying their allies.

Enter to win!

Thanks for visiting EDGE!