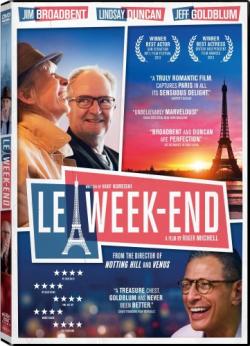 Marking their three decades of marriage with a weekend trip to Paris, a British couple explores their relationship, their future and their sense of themselves in the poignant and comedic romantic drama. As they return to the city of romance, the couple aspires to reignite passion and memories of their honeymoon. Despite the luxurious surroundings, this plan is harder to come by than either anticipated. Adding each character's strong personalities into the mix, hilarity ensues. Regardless of the viewer's age, anyone can relate to the obscured conversations and spats that are shared between the two main characters. As David Rooney of The Hollywood Reporter mentions, "The film is imbued with an engaging mix of warmth and prickliness by the lovely, lived-in performances of Jim Broadbentand Lindsay Duncan." Anunexpected reunion with an old friend helps to reunite our two main characters with their pure intentions and sends a reminder of their invaluable, dynamic relationship.

Starring Academy Award-winner Jim Broadbent (Iris, the Harry Potter series), Lindsay Duncan (Mansfield Park, HBO's Rome) and Jeff Goldblum (The Grand Budapest Hotel, Jurassic Park), LE WEEK-END marks the fourth collaboration between award-winning filmmaker Roger Michell and screenwriter Hanif Kureishi, whose previous collaborations include Venus, The Mother and The Buddha of Suburbia.

Released to acclaim in over 200 of the top U.S. markets starting in March 2014, the film's international fan base has rapidly grown. Insightfully written, outstandingly acted and gorgeously shot all over Paris, LE WEEK-END is at once biting and playful, easy and edgy, romantic and all-too-real-a universal tale about life, love, companionship and the hidden strength of a decades-long relationship, as it unfolds over a weekend in the ever-revealing City of Light.

LE WEEK-END was nominated for five British Independent Film Awards, including Best British Independent Film, Best Screenplay, Best Actor (Jim Broadbent) and Best Supporting Actor (Jeff Goldblum), with Lindsay Duncan bringing home the prize for Best Actress. LE WEEK-END also picked up nominations at the London Critics Circle Film Awards, the New York Film Festival, andSan Sebastin International Film Festival, where Jim Broadbent was awarded the Silver Seashell prize for Best Actor.

Music Box Films Home Entertainment will release LE WEEK-END on Blu-ray and DVD for the first time on July 8, 2014 with pre-book available June 3, 2014. LE WEEK-END Blu-ray and DVD will include a host of bonus features and carry the suggested retail prices of $34.95 and $29.95, respectively.

Enter to win!

Thanks for visiting EDGE!