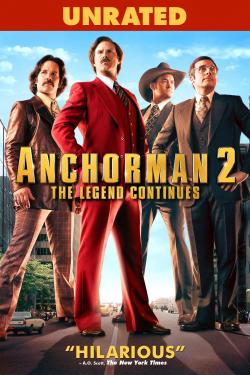 For the first time ever, Anchorman 2: The Legend Continues Super-Sized R-Rated Version will be available on iTunes starting on July 10th. This version is available as part of the Anchorman 2 Unrated iTunes Extras.

Grand Prize Winner will receive an autographed Ron Burgundy bobble head signed by Will Ferrell, an Anchorman T-shirt, Sex Panther cologne (as seen in the movie) and a pair of mustache sunglasses. The film will be provided by download code.

Called "hilarious" (A.O. Scott, New York Times), "fall-down funny" (Peter Travers, Rolling Stone) and just plain "awesome" (Claudia Puig, USA Today), "the funniest movie of the year" (Drew Taylor, AOL Moviefone) makes its highly-anticipated home entertainment debut when ANCHORMAN 2: THE LEGEND CONTINUES arrives April 1, 2014 on Blu-ray Combo Pack, DVD and VOD from Paramount Home Media Distribution. Fans can be the first to own either the Theatrical Version or the Unrated Version when they arrive on Digital on March 11.

The ANCHORMAN 2: THE LEGEND CONTINUES Blu-ray Combo Pack includes THREE versions of the film-the original Theatrical Version, the Unrated Version and, in a home entertainment first, the Super-Sized R-Rated Version with 763 new jokes! Never before in the history of home entertainment has anyone replaced 763 jokes. This must-own three-disc set also features OVER FOUR HOURS of bonus content including commentary by Adam McKay, Judd Apatow, Will Ferrell, Steve Carell, Paul Rudd and David Koechner, gag reels, more than 90 minutes of deleted, extended and alternate scenes, five behind-the-scenes featurettes, table reads, cast auditions and much, much more.

Enter to win!

Thanks for visiting EDGE!