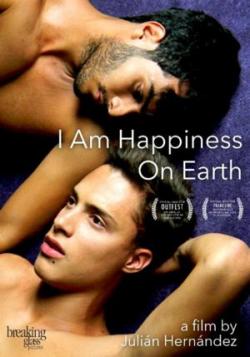 Breaking Glass Pictures is proud to announce the U.S. theatrical release of the LGBT Mexican drama I Am Happiness on Earth (Yo soy la felicidad de este mundo) by acclaimed director Julián Hernández at the Quad Cinema in New York City and Lammle Playhouse in Los Angeles on Friday, August 15th, followed by its DVD/VOD release (all cable providers, iTunes, Amazon Instant) on August 19, 2014.

In I Am Happiness on Earth, Emiliano looks at his life with the eyes of a film director, mixing the objective reality with the processes of artistic creation. The story he is filming flounders with his daily life, until his world is trapped in the lens of his camera. Confused, always alone and in front of a screen, now a transfigured reality, but at the same time a measurable, controllable and manipulable one. He listens to a song on a loop: one of those songs you sing or repeat as a prayer and forcing you to remember, believe and convince yourself.

The film is directed by Mexico's premier queer filmmaker Julián Hernández -the only filmmaker to have won the Berlinale's Teddy Award for Best Feature Film twice, for A Thousand Clouds of Peace (2003) and Raging Sun, Raging Sky (2009). Starring Hugo Catalán, Alan Ramírez, Andrea Portal, and Gabino Rodríguez I Am Happiness on Earth recently had its world premiere at the Frameline Film Festival in San Francisco, and played at Outfest in Los Angeles. It will be making its New York premiere at the Film Society of Lincoln Center as part of NewFest's lineup at the end of July.

Enter to win!

Thanks for visiting EDGE!