1 thru 10 of 2581 Stories
The governor and attorney general of Texas are moving to ban most abortions in the state during the coronavirus outbreak, declaring they don't qualify as essential surgeries.
Do women ever dress defensively — to mitigate the chance that other women might go after them?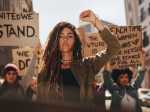 The new law allows women who are up to 20 weeks pregnant to get an abortion and those over 20 weeks to get one with approval from a health practitioner.
"Consent, Consent, Consent" flashed the neon set lights at Dior's latest ready-to-wear show in Paris.
Women fighting breast cancer are increasingly seeing more options for bras as well as clean beauty treatments and other products that help them look and feel better.
Girlfriends Jill and Lindsey headed to Florida's Siesta Key — check out what they discovered!
A dual U.S.-Italian citizen who cut her political organizing teeth on two Barack Obama campaigns is emerging as the latest rising star in Italian politics.
As Americans commemorate the centennial of the 19th Amendment, which granted voting rights to some — but not all — women, it is important to acknowledge the lesbian leaders of the suffrage movement.
By screening for breast cancer, mammography has helped save hundreds of thousands of lives. Using the test to also screen for heart disease might someday help save many thousands more.
Thousands gathered in cities across the country Saturday as part of the nationwide Women's March rallies focused on issues such as climate change, pay equity, reproductive rights and immigration.
1 thru 10 of 2581 Stories